Community
N

ews and Events
---
Indulge Magazine
November 19th, 2013, BC: Heather appeared in the iSocial section of the November 2013 issue of Indulge Magazine. ../Read the page here.
---
CTV Morning Live
October 7th, 2013, BC: Heather Jenkins shows how you can enjoy a Thanksgiving dinner of salmon with an Orange Cranberry Glaze. ../see the spot on CTV's website and get the recipe for Orange Cranberry Glaze Salmon.
---
CTV Morning Live
September 30th, 2013, BC: Heather Jenkins and David Stansfield pair wine and beer with oysters ahead of the 2013 Fraser Valley Cork and Keg wine, beer, and food festival.
---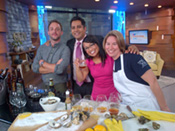 City TV's Breakfast Television
September 30th, 2013, BC: Heather Jenkins and David Stansfield pair four craft beer from around B.C. with four different Ocean Wise oysters ahead of the 2013 Fraser Valley Cork and Keg wine, beer, and food festival. .../see the spot on Breakfast Television's website.
---
She's a Valley Mom
September 26th, 2013 post-event. Family Fun and Frolic.
September 9th, 2013 pre-event. Enter to win Tickets.
---
Bye, bye, little fishies
From the Langley Advance April 30th, 2013, BC: Heather Jenkins and her son Spencer helped release 25,000 young salmon into the Nicomekl River as part of the Nicomekl Enhancement Society's open house Saturday afternoon. The society also hosted tours of its hatchery at 5263 232nd Street and served hot dogs and pop by donation. .../read the story and watch the video on the Langley Advance website.
---
1 Fish 2 Fish Fresh Seafood Market Marks 15 Years in the Fraser Valley
Langley, BC: Local Fish Monger, Heather Jenkins is celebrating 15 years serving up the best to her Fraser Valley customers. A fixture in downtown Langley, 1 Fish 2 Fish Fresh Seafood Market is still doing what they were when they opened their doors 15 years ago, providing the best fish and seafood selection available.
This Langley resident knows a thing or two about sourcing the best, "when we opened our doors in 1998 it was with a plan to provide only the best quality products we could," says Heather Jenkins, owner of 1 Fish 2 Fish Fresh Seafood Market. .../read the full news release here.
---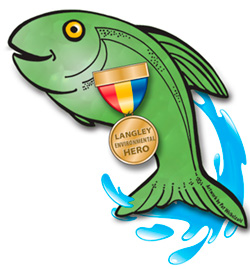 1 Fish 2 Fish Wins Environmental Award
Langley, BC: The community of Langley let it be known on Saturday June 9th, 2012 that there are many worthy environmental heroes among us with over 20 nominees from the community for this year's Langley Environmental Hero Award. 1 Fish 2 Fish Fresh Seafood Market was honoured to learn 10 days prior, that they were part of that group. Of the 10 nominees in the business or organization category, 1 Fish 2 Fish was awarded the 2012 Langley Environmental Hero award by the selection committee which included members from the Langley Environmental Partners Society (LEPS) and the Fort Langley National Historic Site of Canada.
"We know that everyone always says it, but it was an honour to be nominated," says Heather Jenkins, owner of 1 Fish 2 Fish Fresh Seafood Market. The stunned look on Jenkins face when the name of her business was announced was obvious. "I just can't believe we won. There are so many people doing their part to help protect our environment, it is truly great to be recognized for the efforts of our team." ../read the full news release
---
Happy Birthday 1 Fish 2 Fish!
We had a great birthday party recently and the Langley Times even showed up! Check out the photo on their website.
---
Heather Featured in Seafood International Magazine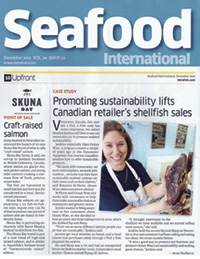 Yeah, we know it's a pretty big deal. Seafood International is one of the most respected industry publications for the aquaculture industry. And our very own Heather Jenkins was featured on the front page for her support and promotion of sustainable seafood industry. She was lauded for her work with retail customers from her Langley, BC storefront as well as for her work with restaurants and suppliers to ensure that customers have sustainable options.
You can read the article here.
---
Second Annual Sip & Slurp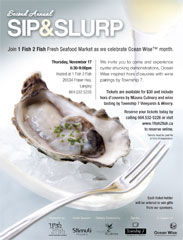 As the first fish market in the Vancouver area to join the Ocean Wise™ program in 2009; to Heather Jenkins and her staff at 1 Fish 2 Fish Fresh Seafood Market, protecting and sustaining seafood and fish stocks has always been a top priority. As overfishing continues to threaten our oceans today, Jenkins and her team are set to raise awareness about the Ocean Wise™ conservation program by celebrating Ocean Wise month with a party on Thursday, November 17th.
While throwing a party seems an odd way to turn the tide on overfished or depleted seafood and fish stocks, Jenkins thinks the best way is to lead by example and show customers and guests how delicious and accessible sustainable seafood is in the lower mainland. "We are proud to be an Ocean Wise partner and look forward to a great evening with our customers filled with award winning wines, Ocean Wise hors d'oeuvres and a raw Oyster bar."
"We are truly fortunate in British Columbia to live along a coast line that provides us with a fish and seafood bounty unlike many others," remarked Jenkins "With more than 400 known species of marine fish living in the ocean waters off our coast, enjoying the bounty can sometimes come with negative impacts like pollution and an altered ecosystem." Jenkins' hopes that by hosting the event, customers and guests leave with having experienced a local and sustainable selection of Ocean Wise™ options. .../read more
---
Adopt-A-Fish Salmon Fry Released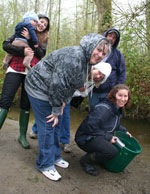 ADOPT-A-FISH! - Our Adopt-a-Fish Salmon Fry were released on April 30th. With the support of You Gotta Have Friends we raised over $1,200 in support of the Nikomekl Enhancement Society.
1 Fish 2 Fish Fresh Seafood Market has been serving the Fraser Valley for over 12 years with the highest quality fresh, live, frozen or smoked fish and seafood. We operate an eco-friendly seafood market supporting local, chemical-free and wild seafood and fish, ensuring that what you eat is only the healthiest option for you and your family.
With over 50 varieties of fish and seafood to tempt your palette and accommodate your tastes, we are sure to have something to meet your needs. If you are looking for something specific, please don't hesitate to contact us.
---
Fish friends help salmon thrive in Nicomekl.
By Matthew Claxton, March 11, 2011
Adopting a tiny salmon fry will help restock and rejuvenate a local stream.
People ask Heather Jenkins if she's raising her own salmon when they walk in to her downtown Langley seafood store, 1 Fish 2 Fish.
"Sort of, yes," she tells them.
The salmon fry in the tank aren't actually destined for the display cases at the Fraser Highway store. Instead, the 80 tiny fish will be released into the Nicomekl River this spring, with thousands of their siblings.
Click here to read the full Story on the Langley Advance's website
---
Langley fishmonger raising salmon to release in Nikomekl River.
By Glenda Luymes, March 3, 2011
A Langley fishmonger is hoping that what goes around, comes around.
Heather Jenkins, owner of 1 Fish 2 Fish Fresh Seafood Market is raising 80 salmon in her store this winter for release into the Nicomekl River in April.
Click here to download the full Story on the Province's website
---
Fish come full circle as fishmonger raises Red Spring Salmon
Feb 28, 2011

Langley, BC: There is no better example of life coming full circle than a fishmonger raising fish; Red Spring (Chinook) Salmon to be exact. 1 Fish 2 Fish Fresh Seafood Market owner Heather Jenkins thought there was no better way to give back and help educate her customers than an exercise in Show and Tell. Now in its second year, the 1 Fish 2 Fish Adopt-a-Fish campaign supports the Nicomekl Enhancement Society by raising Red Spring (Chinook) Salmon from eggs in a specialized tank inside the fish market..
Click here to download the full Media Release
---
Fishy donation welcomed in Gateway kitchen
June 18, 2010
A local fresh seafood market, 1 Fish 2 Fish, was faced with a fishy situation.
The recent success of its 12th annual halibut whole fish event resulted in the sale of 6,000 pounds of fresh BC halibut. But it also meant 1,000 pounds of fish trimmings, explained owner Heather Jenkins.
Since she built her downtown Langley City business on supplying customers eco-friendly, sustainable products, the idea of throwing away all of the fishy goodness was a bit troublesome.
Read the full article in the Langley Advance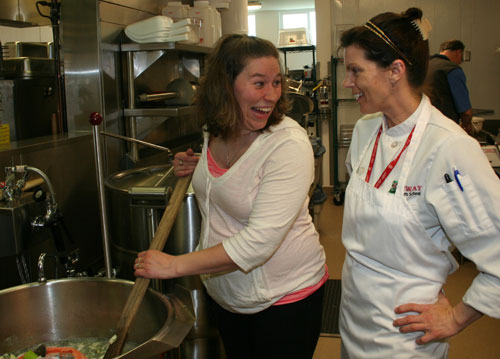 1 Fish 2 Fish owner, Heather Jenkins and Chef Val Andrews in the Gateway of Hope kitchen making fish stock.
---
Media Release
May 27, 2010
Langley, BC: It seemed a likely choice for 1 Fish 2 Fish owner Heather Jenkins. Heather has long since been a supporter of sustainable fishing practices and since opening the doors of her seafood market has quietly pursued eco-friendly options for her customers. This past spring Heather approached the Nicomekl Enhancement Society with the idea of raising much needed funds and salmon fry in the market to help support the Society's work in the community. "The volunteers have little funding and are committed to protecting and enhancing the salmon and trout stocks that run through the watershed," notes Jenkins.
Click here to download the full Media Release