L

inks and

A

ssosciations
Introducing our Ocean Buddies!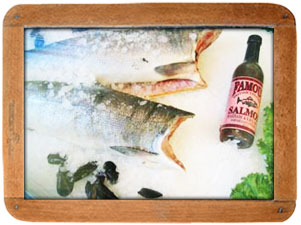 Owner of 1 Fish 2 Fish, Heather Jenkins works closely with a number of different companies to bring you only the best quality services.
One of her Ocean Buddies is Stu Macleod (Master Chef) from Ritz Catering and Coffee House in Langley (www.RitzCatering.ca). During the summer months you may see Stu cooking up a storm with Heather at 1 Fish 2 Fish, as they create some amazing taste tantalizing seafood dishes for you to try while enjoying your time in the market.
Watch for dates of the next time Stu brings his culinary skills to 1 Fish 2 Fish.
Links
Nutrition and Fitness
Andrea Ferguson of Life Designs Coaching & Consulting is a nutritionist and certified fitness instructor who offers group fitness and nutrition education classes to people who want to have fun with fitness and learn to enjoy making good food a priority. www.life-designs.ca
Food
Well Seasoned, A Gourmet Food Store - Must I say more... Angie Quaale is passionate about food and at her store you will find all those specialty hard to find ingredients you've been looking for. To make it better Well Seasoned Cooking School brings chefs and wine experts to the Fraser Valley to teach us about new ingredients, new teachings and new flavor check out the vast variety of classes offered and all the new and exciting things happening by visiting www.wellseasoned.ca
Mizuna Culinary Inc. is a catering company located in Langley, BC and run by Chef Rebecca Troelstra. They offer personalized culinary services throughout the Lower Mainland. They are passionate about food and are committed to providing our clients with a culinary experience they are proud to share with their guests.
Whether you are hosting clients at a large corporate event, or are entertaining friends and family in your home, they can work with you to create a menu which suits your individual needs, and ultimately deliver an outstanding product. Check them out at www.mizuna.ca
Associations
1 Fish 2 Fish Fresh Seafood Market is a proud member of the following business associations.